Ur arkivet, KLASS nr 1-2017

Man måste erbjuda motstånd, annars upphör man att vara människa
För 40 år sen kom Slamfarmen ut. Torgny Karnstedts debutbok som enligt kritikerna slog "stora hål på myten om tillståndet i det svenska folkhemmet"och såldes i över 70 000 exemplar. En ny arbetarförfattare var kommen.
Text: Beata Hansson Foto: Jane Morén
Ilskan, glädjen, bitterheten, hoppet, envisheten och en smula melankoli. Ett samtal med Torgny Karnstedt bjuder på en tillbakablickande bergochdalbana som kanar ut i framtiden. Man blir både ledsen och upprymd på samma gång.
Jag läste en intervju med Torgny. Han oroade sig för att framstå som gnällig. Jag tänkte att det här är en man som har en del att klaga på. Men samtidigt är mån om att ge en skopa av framtidstro. Det här kan bli ett spännande samtal.
Debuten med Slamfarmen kom sig av en ren slump. Lasse Strömstedt, kåkfararen, skådespelaren och författaren till bland annat Grundbulten, snodde med sig Torgnys dagbok om livet på fabriken, när han lånat hans soffa en natt. Torgny var 23 år ung och arg, vilsen och på stadig väg åt något håll som lika gärna kunde vara rakt nedåt.
Dagboksanteckningarna nådde ett förlag. Slamfarmen blev till. En bok om att vara ung i arbetslivet. Men kanske framförallt en bok om eländig arbetsmiljö.
Var det svårt att komma ut med din andra skönlitterära bok, Gnistskärmen?
– Eftersom Slamfarmen var en sensationell och hyllad debut, trodde många att jag skulle ängslas inför nästa roman. Det var tvärtom. Jag kände tillförsikt. Gnistskärmen, som skildrar några unga arbetares kamp för att bli av med en livsfarlig miljö, tog mig två år att skriva. Och den blev väl mottagen. Jag la ner ett stort arbete på att sätta mig in i miljön. Tio år efter att den kom ut blev jag uppringd av en kvinna som var upprörd över att hennes man framställts som otrogen. Hon hade läst boken som om det vore en fackbok, inte roman.
Slamfarmen kom ut under det röda 70-talet. Gnistskärmen, som är en kollektivroman, gavs ut 1990 när arbetarlitteraturen av media ansågs passé, men den sålde hyggligt i alla fall.
Vi sitter hemma hos Torgnys bror i Svedmyra. Själv bor han sedan sju år i Båstad.
Båstad. Det låter flott …
– Ja, det kan man tycka. Folk frågar om jag börjat spela tennis och golf nu. Men jag känner mig friare här än i Arvika, metallarbetarstaden där jag bodde i trettio år. I Arvika fick jag kämpa mot de styrande för att göra min röst hörd. Trots att jag skrev fler historiska fackböcker som skildrade metallarbetares liv fanns ett kompakt ointresse för den typ av litteratur jag skrev. Det ironiska är att när jag till slut, efter alla dessa år, fick kommunens stora kulturpris, var det tack vare ett moderat oppositionsråds ihärdiga nominerande.
Med ett slutgiltigt erkännande i ryggen och en beslutsamhet att slita upp rötterna för något nytt, köpte Torgny "vingar för pengarna" och drog söderut.
– Men Båstad var en slump. Alla barn var utflugna. Vi hade en son som pluggade där, blev kära i platsen och på den vägen är det.
Vi rör oss fram och tillbaka i tiden. Torgny är en driven berättare. Håller tråden säkert. Vet vad som ska fram. Han har noterat ideologier komma, trampas ner och närmast försvinna. Andra åsiktsyttringar har han sett återuppstå och ta ny plats. Om man är född i Sverige för 65 år sedan, har man upplevt ett folkhem under uppbyggnad och kan nu se hur nedmonteringen tar fart.
Fast ur hans blåa ögon lyser en tillförsikt. Han ser en spiral som cirklar sig nedåt. Men den tar sig också lite mer uppåt för varje gång den har dykt.
– För vi människor lär oss faktiskt någonting hela tiden. Men så måste vi ner och förstöra igen, liksom samhällen och kulturer i alla tider har gjort. Det är tråkigt att se det hända. Men kanske inte helt ologiskt. Lika logiskt som att den brinnande socialdemokratin som åstadkommit så mycket gott nu sitter i sin övermättnad utan någon egentlig ideologisk kompass kvar att gå efter. De förmår inte försvara vad tidigare generation byggt upp utan deltar i rivningsarbetet av folkhemmet.
"Vi hinner knappt tänka klart en tanke innan den ska kommuniceras ut. Och vad går förlorat? Moralen? Respekten för andra?"
Eftersom vi går mot nya tider kommer vällevnaden ransoneras. Några blir såklart ännu fetare. De flesta kommer att märka av sjukhusens förändring, utbildningens dalande kurva, kulturens allt smalare plats i vår tillvaro. Det är det vi ser just nu. Klassklyftorna ökar snabbt. Det syns inte minst bland de unga.
– Jag har rest runt i svenska skolor i över trettio år och mött många elever som har det tufft. Dessutom har jag en fru som arbetar med elever i behov av särskilt stöd. Mitt hjärta klappar för dem som har det svårt. Citatet jag använder i Låtsaskungen, från Hjalmar Söderbergs bok Doktor Glas om att vilja bli älskad och hur själen ryser för tomrummet och vill ha kontakt till varje pris som helst understryker vad jag också känner, liksom citatet av Tove Ditlevsen om alla omöjliga barn som alla vuxna är så rysligt arga på. Jag tycker att kännetecknet på ett välmående samhälle hänger samman med hur vi tar hand om våra barn. Alla barn har rätt till en bra start i livet. Det är avgörande för deras framtid.
Ett genomgående tema i dina böcker verkar vara arbetsvillkor och behovet av att organisera sig från golvet. Vad har lockat dig till detta ämnesval?
– Det som intresserar mig är att berätta historier om människor i rörelse, som både reflekterar över sitt eget liv och kollektivet. Jag tycker det är viktigt att skildra arbetarnas liv och deras kamp för anständiga villkor. Då måste man lyfta fram motsättningarna och klasskampen. Det är trycket underifrån som är den pådrivande kraften och möjliggör förändringar. När jag skriver faktaböcker försöker jag utifrån min forskning gestalta skeenden så mycket det går inom ramen för genren. När jag skriver skönlitterärt är friheten större men mitt ämne är detsamma. Skildra tendensen i samhället, ur ett underifrånperspektiv.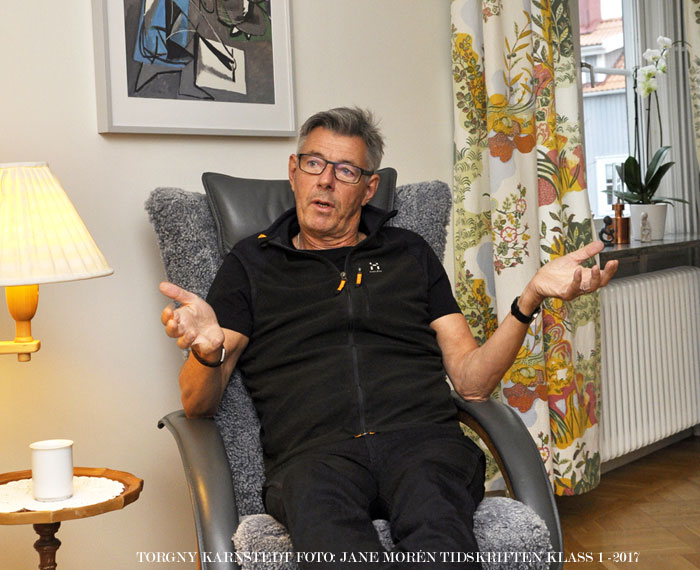 Torgny pausar. Jag hinner snabbkolla mina anteckningar. Nedskrivna frågor har jag glömt vid det här laget. De är knappast nödvändiga. Han vet hur man fångar sin publik, denna handelsresande i ord. Ofta i någon av alla Sveriges skolor där han berättar om vikten av att kunna läsa och att kunna skriva. Att det är grunden till allt. Hur orkar han? Svaret kommer direkt. Det är ur dessa möten han får sin energi.
– Och i Föreningen Arbetarskrivare. Här samlar jag vänner och skrivarlust. Här träffar jag likasinnade och får mitt livshopp tillbaka. Litteraturen kan inte göra några revolutionerande förändringar. Det får vi inte tro. Men det kan skapa hopp och det är en början. Jag läste någonstans: "Är du inte revolutionär när du är ung har du inget hjärta men är du revolutionär när du är gammal så har du ingen hjärna".
Men Torgny är fortfarande revolutionär. Han stångar pannan blodig för det han anser vara rätt.
– Man måste erbjuda motstånd, annars upphör man att vara människa. Det handlar om att leva ett anständigt liv i en oanständig värld.
Var har du fått ditt patos ifrån?
– Min uppväxt. Mina möten. Människor. Att få prata om en bättre värld är inte bara viktigt, det är roligt. Ger kraft.
"Jag ser det som att jag har en samhällspolitisk uppgift, både att skriva och att berätta om skrivandet."
Då och då, några stråk av bitterhet. Även om han skyr ordet. Bitterheten är vår största fiende. Men hans flirt med arbetarrörelsen har inte gett den effekt han så länge hoppats på.
– I 40 år har jag stått med rosen under balkongen och friat. Nu börjar jag inse att bruden inte vill ha det liv jag erbjuder. Så frågan är vad jag ska göra nu. När de själva har fjärmat sig så till den milda grad från sin egen bildningsrörelse. Det är som om vi talar två helt olika språk.
"If you can't be with the one you love, love the one you with."
Citaten flödar. Det är en lärd man. Han skulle kunna knocka alla våra politiker samtidigt på ett bräde.
– Om man lyfte upp vänsterpartisten Jonas Sjöstedt och släppte ner honom i Tage Erlanders 60-tal skulle han framstå som en högersosse. Och då har han bara sju procent av väljarnas stöd. Tage Erlander hade i valet 1968 egen majoritet, över 50 procent. Utvecklingen är djupt oroande. Sverigedemokraternas stärkta positioner förskräcker.
När ska vi vakna upp? Torgny ger inga svar. Han är ingen predikant i den bemärkelsen. Han fyller 65 år. Tiden är inte oändlig. Han har inte tid att vila men är ändå lite osäker på sin riktning.
Vi tillåter oss att gemensamt sörja det faktum en smula, att vi har hamnat i såpoperornas fördummande tidevarv. Vi konsumerar det public service ger och vad gör det oss till? Lealösa konsumenter, lata följeslagare in i framtiden med förenklade lösningar i beredskap som gör oss än mer imbecilla.
– Jag är en författare som sällan får några stipendier. Det kan kännas orättvist.
Det har gått så långt att han funderar på om nästa bok ska bli en deckare …
– Men det blir självfallet en samhällsdiskuterande bok efter en idé jag burit inom mig under ganska många år.
Vad hade du gjort idag om inte Lasse Strömstedt hade stulit din dagbok?
– Kanske hade jag fortsatt jobbat fackligt. Tagit tyngre uppdrag. Troligen hade jag gjort det. För jag kan inte vara tyst. Jag kan inte bara se fel saker hända utan att göra något.
Temperamentet finns. Skrivarådra, eller snarare berättarlust. En känsla för fantasi grundad av en barndom med mycket frihet.
– Jag ser det som att jag har en samhällspolitisk uppgift, både att skriva och att berätta om skrivandet. Jag vill berätta om verktyget som kan ge oss självkänsla och hjälpa oss bevaka våra demokratiska rättigheter. Människans kunskaper är viktiga. Det är viktigt att minnas hur vi rev ner fattigsverige, hur vår materiella standard långsamt byggdes upp. Tage Erlander trodde att i en välfärdsdemokrati skulle vi bli harmoniska och solidariska. Men det blev inte så.
Han säger upprört att ett samhälles anständighet utgår från hur vi tar hand om de svaga.
– Folkrörelserna är borta. Det stora statsbärande partiet genom hela välfärdsbygget har idag knappt 100 000 medlemmar. Han minns politiken i sin ungdom som ett ständigt pågående, engagerat samtal. Man förstod värdet av att jobba för sina demokratiska rättigheter. Men i vår tid, med dagens hastighet i kommunikationen. Vi hinner knappt tänka klart en tanke innan den ska kommuniceras ut. Och vad går förlorat? Moralen? Respekten för andra?
Torgny återberättar en morgon i bastun när han satt med ett gäng äldre män som ondgjorde sig över dagens ungdom som var så ouppfostrad. Torgny undrade: "Men vem uppfostrade er då?" "Det gjorde ju våra föräldrar", svarade de.
En retorisk fråga är på sin plats. När slutade vi uppfostra våra barn?
Han kallar det den välmående generationens fel. Lite typiskt anser han det är, när han hör dagens finansminister oja sig över rika pampar som flyr till skatteparadis.
– Det är ju hon och hennes kompisar som skapat regelverket, utrymmet och möjligheten. Det är politikerna vi ska vara arga på.
Vi ser en trumpifiering, inte bara i USA. Utan i hela världen. Torgny anar glidningarna, han ser dem i ljuset av sin egen ungdomskonflikt med pappan som tyckte sonen var på tok för röd för pappans socialdemokratiska hållning. Han fick Torgny att läsa Tåbb med manifestet av Lars Ahlin, där Tåbb till slut inser att revolution inte är lösningen. Men nu kan vi alla notera hur sossarna har slagit in på en väg som för Torgnys pappa hade varit ofattbar. Även Lars Ahlin skulle ha vänt sig i sin grav.
Hur gick allt det här till? När tog det ansvarsfulla tänkandet slut? Hur kunde det ens bli möjligt för LO att outsourca allt kulturarbete till ABF, avveckla sin kulturombudsman?
Torgny serverar ett svar i nästa andetag,
– Enkla världsbilder ger enkla lösningar. Omvärlden tog Trumps olika vallöften med en nypa salt. Nu är man förvånad att han genomför dem. Man är förvånad över att en politiker håller sina löften. Vad säger det om våra politiker?
Vi håller på att skapa en värld där alla är förlorare, tror Torgny. En värld där vi alla är illa ute. Även de mest välbeställda lever kortare och ohälsosammare liv när jämlikheten urholkas. Och motrörelserna som förr var starka samhällsrörelser de är nu små öar utan inbördes kontakt. Han är både bekymrad och oroad.
– Det är inte så att det var bättre förr, det säger jag inte. För drygt hundra år sen tvingades över en miljon svenskar emigrera för att söka sig ett liv där de kunde överleva på sitt arbete. De svartlistades för att de kämpade för rösträtten och föreningsrätten. Men vi får inte glömma att samtidigt som vi i vår del av världen upplever att utvecklingen går tillbaka, finns det andra platser i världen där den går framåt.
Men han är faktiskt ändå en glad människa som menar att responsen från alla han möter stärker. Över klass- och generationsgränserna. Han ser framförallt Föreningen Arbetarskrivare som en fruktbar mötesplats. Här delas ett intresse ur ett litterärt perspektiv.
– Här rangordnar vi inte varandra, vi positionerar oss inte, vi fogar alla varsin pusselbit. Man mår bra av att träffa likasinnade. För något som kan äta upp en inifrån är bitterhet. Och tänk att vi faktiskt har en egen tidning! Det är jag oerhört stolt över.
Skrivandet är viktigt. Torgny citerar Ivar Lo "Bara när vi ställer oss vid sidan av kollektivet kan vi skildra det". När vi författare berättar, hjälper det människor. Även om vi inte välter ett samhälle, för det har ingen litteratur kunnat göra.
Du har nyligen kommit ut med en novellsamling, Karlssons pojke. Hur fungerade det att skriva i den formen tycker du?
– Novellen är en fantastisk form men den ställer stora krav. I en roman kan du fördjupa dig under ett stort antal sidor medan du i kortprosan måste väga varje ord på guldvåg. Det som är den lockande utmaningen är att kunna berätta ett koncentrerat liv på kort utrymme. Se bara på Strindbergs lysande text Ett halv ark papper.
Det finns en tendens med allt tjockare romaner. Men en bok blir nödvändigtvis inte bättre för att den är tjock. Eftersom jag besöker skolans värld så vet jag att noveller är mycket uppskattade då de är tacksamma att arbeta med. Karlssons pojke skildrar det Sverige som jag sett förändras sedan min debut. Min förhoppning är att de som läser boken ska få kraft att börja kämpa för en bättre värld. Givetvis också att de tycker boken och mitt språk har ett konstnärligt värde.
Vad ska du göra nu?
– Jag vet inte, men det blir inga fler rosor till arbetarrörelsen. Inte förrän den lever upp till sina högtidstal.
Men Torgny tror inte på dystopier, inte heller på klasshat.
– Och vi lever faktiskt i ett bra samhälle. Mycket av det vi matas med är negativt, och vi skildrar det vi upprörs över. Fast vi får inte fastna i det. Min tid här på jorden är begränsad. Jag vill njuta och inte delta i några onödiga krig. "Vi kan inte hindra fåglarna att flyga över våra huvuden, men vi kan hindra dem att bygga bo". Vi har åstadkommit mycket gott och spiralen går faktiskt uppåt. I dag har vi mycket mörkerkrafter men jag är faktiskt inte den där dysterkvisten. Jag tror på framtiden.
KLASS nr 1-2017